We've got bunnies! Super lux cashmere bunnies…mmm! I've acquired a lot of scraps from making recycled cashmere scarves last holiday. I've been trying to come up with a project that is scrap worthy. These are the perfect snuggle bunnies for the job.
Materials:
Cashmere sweater
Scrap of cotton print fabric
Fiberfill
Needle felting supplies (optional)
Buttons, pompom, felt ball, etc.
**PLEASE NOTE: for kids under 3 years old, do not attach buttons, felt balls, etc. Embroider or needle felt all embellishment. It's safer and just as cute!
I find second hand cashmere sweaters at Goodwill. Here's a tip: If you have trouble finding them on the sweater rack, look in the blouse/long sleeve shirt area. Wash in hot water and dry in the dryer. They won't felt, but they will shrink and get a little thicker and fuzzier.
1) Cut a bunny shape out of scrap paper and pin to 2 layers of sweater. I'm using contrast colors with right sides together so I get both sides of the bunny. (make your own bunny shape by tracing a cookie cutter and enlarging. Or you can use mine) Cut 2 ears out of sweater fabirc and 2 ears out of a print lining.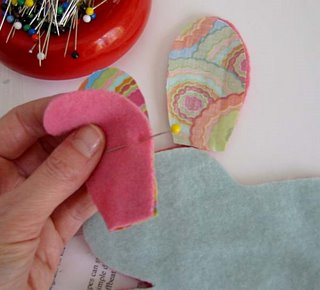 2) Place ear and lining right sides together, pin. Stitch around perimeter (leaving bottom open) with 1/8″ seam allowance.
3) Turn right side out and press.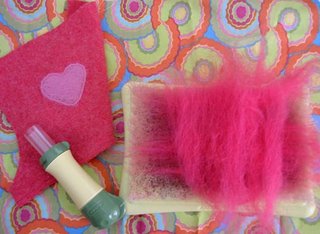 4) Now it's time for a little needle felting embellishment on the bunny body. I use the Clover tools, which I did a tutorial on a while ago. First lay out some roving on the mat, crossing the direction of the fibers.
5) Once you get a nice little matted piece of felt, carefully remove from the mat. Using a pattern, cut out a heart shape for each side of the bunny. (save the scraps!)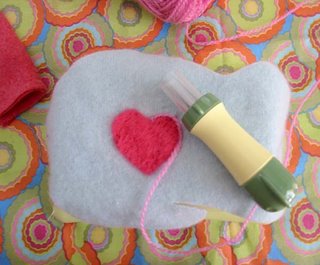 6) Next place one side of the bunny, right side up, on the mat. Needle felt the shape into place. To keep the edge of the shape defined, I like to outline it with yarn, also needle felted into place. (It might help to use a single felting needle for this, but be sure to transfer work to a foam mat. Do not use a single needle on the Clover mat.)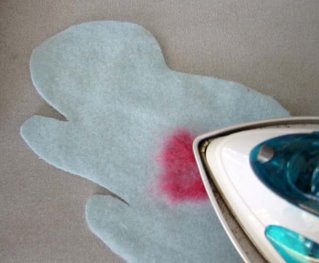 7) Carefully remove work from mat taking care not to stretch and distort the shape. Steam the back of the work to help set the fibers. Repeat needle felting steps for the other side of the bunny.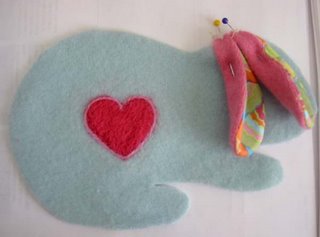 8) Now it's time to assemble! Fold a tuck into the bottom of the ears and pin onto one side of the bunny head.
9) Place the other side of the bunny on top, right sides together, sandwiching the ears between layers. Pin and stitch around perimeter of bunny, leaving a 2″ opening to turn work.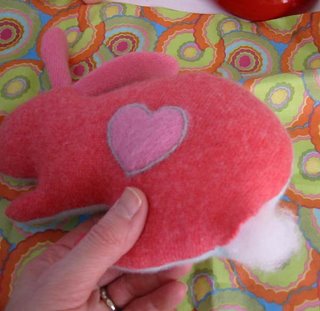 10) Turn work right side out and stuff with fiberfill. No, that little puff is not the tail! 🙂 Hand baste the opening closed, then attach a tail. I used a pompom I made out of yarn for this one and a felt ball tail on the orange bunny. Sew on some button eyes and you're done!
Oh my goodness, they're multiplying.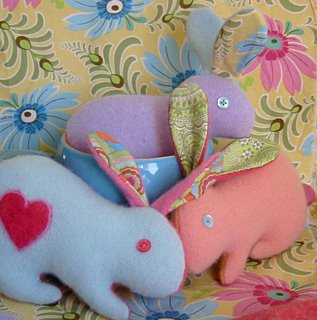 So soft and sweet! (This photo shows the other sides.)
For needle felting supplies (roving, Clover tools, felt balls) I recommend the nice folks at ornamentea. Have fun and let me know if you make some bunnies!