Hello, Felt-sters!
I have for you today a quick technique tutorial. I received this tool a few months ago at CHA from the lovely people at Clover. It works pretty much like the other tool I use, but able to pinpoint (ahem) a tinier area. I think it works great for a technique I'm calling a felted seam. Catchy, I know.
This technique is for use over the seaming of a felted wool scarf, pillow, blanket, or any other project that you might be doing a lot of piecing and/or scrap-using-up. My example just shows the technique and you can apply to a project of your own.
Materials:
Felted Sweater scraps (or a project you are working on)
Sewing Machine and thread
Roving
Needle felting mat and tool
1) I have some felted wool sweater scraps, a Clover brush, and the new pen-style tool.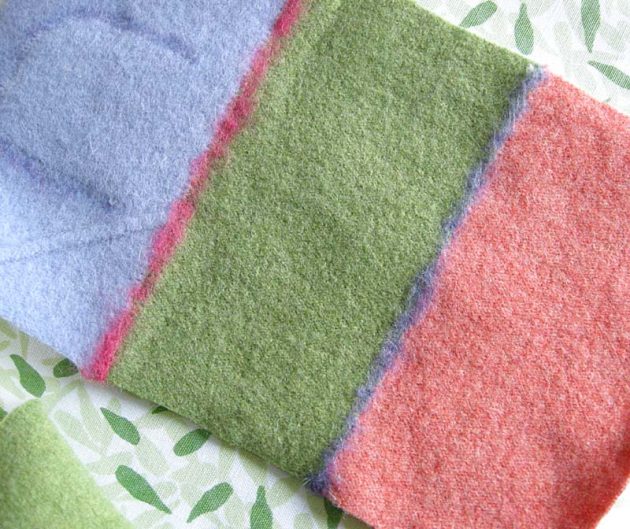 2) I cut some equal-width rectangles and butt the edges together while using a wide zigzag (and about a #2-3 stitch length).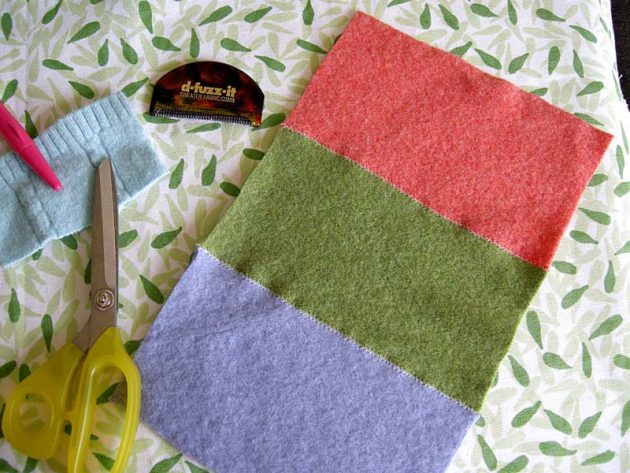 3) Since I am going to hide the thread, I didn't bother matching the felt and just used white. Steam press from the wrong side to smooth woopiness. Also note my de-fuzzer tool, very helpful on pilly sweater felt.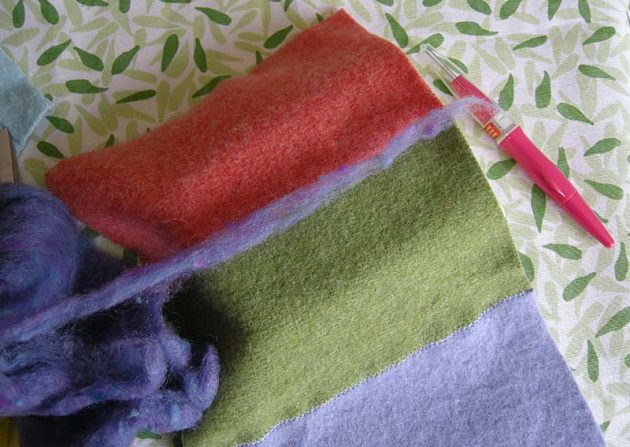 4) Lay seam, right side up, onto felting mat. Place a narrow piece of roving across the seam and needle felt along the seam, covering the zigzag stitches.
5) Steam iron on the wrong side to "set" fibers. Repeat for the other seam.

6) You can even do this around appliques or seamed on pockets. I cut a little pocket shape out of a scrap with a ribbed edge. Zigzag to attach. Crooked seams? No worries! Steam it and needle felt right over it.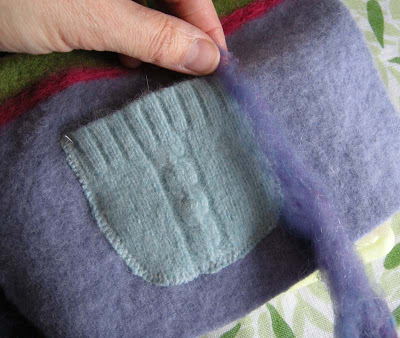 7) Cover stitch line with roving and needle felt around pocket.
8) Kinda groovy, huh?
9) Here's the back view see? Stitches hidden there, too. This would be great for something two sided, like a scarf.
I just love the possibilities for this technique. I used contrasting colors to make it easy to see, but you could do some nice blending or put it on curved seams, etc. BTW, I have seen a lot of felted wool scraps for sale these days on etsy (type in "felted wool scraps" in the etsy search window under the "description" category) and if you're in need of roving, I like Ornamentea.
Give this technique a whirl! I bet it could be used to make some fun variations on the projects in Warm Fuzzies…let me know if you try it!