Ever since I sewed my first Metro Hipster Bag with waxed canvas I have been in love with the stuff. It's got a casual, rugged look and it's easy to sew. Waxed canvas amps up the durability of the bag as well as the style factor, in my opinion!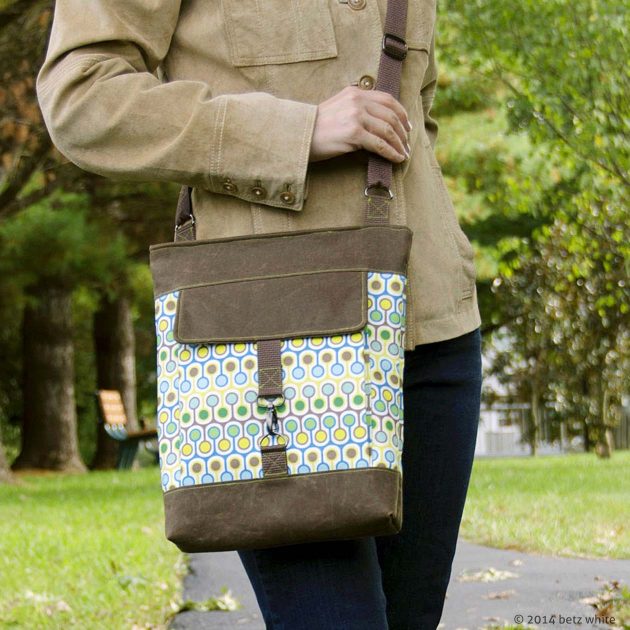 What is Waxed Canvas?
Waxed canvas is a cotton canvas that has been impregnated with wax and is water resistant. First used as sailcloth by 19th century mariners, waxed canvas is durable and has a look similar to distressed leather.
Look and Feel
Waxed canvas has slightly waxy feel and gets a rugged mottled look with use. The surface shows creases and marks easily, contributing to the character of the fabric. You can choose to emphasize this by deliberately scrunching it in your hands then smoothing it out [1]. There are several weights available in waxed canvas. I like the mid weight, 8-10 oz, for sewing bags on a home machine.
Stitching
As with any heavy fabric, it's important to equip your machine with sharp new heavy duty needle in a size such as 100/16 or 100/18. Heavy duty of "jean topstitching" thread is also helpful as is using a longer stitch length of 3 for topstitched details [2]. A roller foot or Teflon coated foot can assist when sewing on fabrics like this that may tend to grab. If you've got a walking foot for quilting, you can try that as well since the foot "walks" vs. sliding along the fabric surface [3]. I've been using a standard presser foot and it seems to work fine for me.
Pressing and Pinning
Keeping your waxed canvas rolled rather than folding it can help avoid creasing. However, creases can be removed by pressing, provided you protect your iron from the wax by using a press cloth [4].  Sometimes pinning can leave visible pin holes so try to pin carefully within the seam allowances [5] or forgo pins and use clips instead [6].
Clean your Machine
After sewing with waxed canvas, be sure to give your machine a thorough cleaning to remove any potential build up left behind from the wax. Wipe the surfaces down and use a fresh needle for your next project!
Where to find it
I searched high and low for waxed canvas when I was developing the Metro Hipster Bag. It can be quite spendy and buying it from Fairfield Textiles, the only US manufacturer, requires a meeting a large minimum. I've been able to buy a yard at a time for my projects on Etsy by searching for "waxed canvas yardage". Also, Robert Kaufman has recently (2018) added a new 8.2 oz waxed canvas to their offering in multiple colors.
My love for waxed canvas continues with my new 2018 sewing pattern, the Ravenwood Messenger Bag! The PDF pattern is available in my shop! You can also get all of the details and features in this blog post. Have you sewn with waxed canvas before? Do you have any tips to share?