I'm so excited to bring you my latest PDF sewing pattern, the Smile and Wave Tote Bag!

The Smile and Wave Tote is roomy enough to carry everything you'll need for a day of surf and sun. It's got a wide open top with sturdy shoulder straps. Inside there's three slip pockets for easy access plus one zippered pocket to hold keys or money. The two roomy outer pockets each have a magnetic snap closure. The large tote measures 21" at the top opening, 8" x 13" at the base, and 25" high including handles.
I designed this as a pool or beach bag but it is really so versatile, I see myself using it for lots of different occasions. After I made a few of them I decided to add a smaller size for "everyday"! The Small tote includes all of the same great details and is perfect to tote your personal items. It measures 16 1/2" at the top opening, 6" x 10 1/2" at the base, 19" high including handles.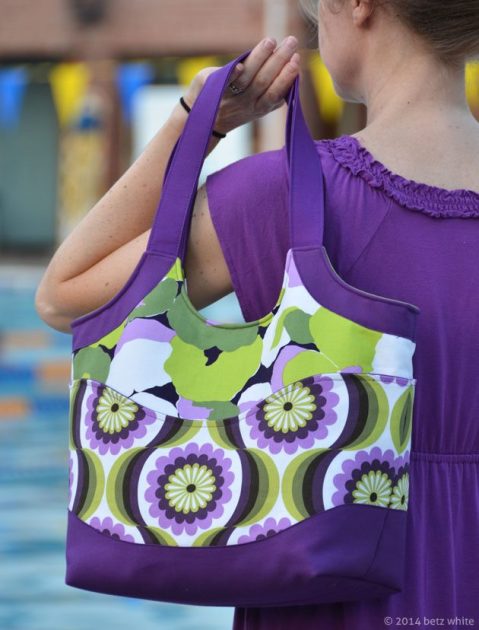 The skill level for this bag is "Confident Beginner" and it actually sews up pretty quickly. Don't let those curves fool you…this pattern has no opposing curves to negotiate. Both the solid facings (at the top) and the base are overlays using a slick (and easy!) trick to get perfect curves.
My favorite detail is that wavy curve on the exterior pocket. It's fun to mix prints between the pocket and the main bag or you can use one print for both. There are so many options and combinations! Each time I got photos back from my pattern testers I wanted to make a new bag. For the large tote above and on the pattern cover, I used a Robert Kaufman print canvas (look familiar?) for the outer pocket, a stripe for the the main bag and a solid Kona cotton for the accents and lining. For the small tote, I used RK canvas in 2 different prints with Kona solids.
Now for some great inspiration from my awesome testers!
Check out this beach-side beauty by Angie F of Daisysaid. She used coordinating blue and white Premier Prints canvas with solid grey trim. It turned out fantastic!
Here's a shot of the inside. You can see there's tons of room for towels and gear, plus interior pockets on the side for sunscreen, water bottles, etc. I think there might be anchors on that lining. Cute!
Angie also sewed up the small sized tote in black and white. This is a great example of using just 2 fabrics together in a different arrangement.
The pattern calls for the small tote to have shorter handles than the large tote, but Angie modified it to keep the longer straps as preferred by the person she made it for. Isn't that the great thing about sewing? Customization!
Test sewer Jen W also took her tote to the beach (take me with you next time!) and got tons of compliments.
And why wouldn't she? Look at that superb job she did of print matching on the front pocket! The fabric is all from Robert Kaufman: print canvas, pink Kona cotton and the lining is a butterfly print on organic cotton. Gotta love that preppy pink and orange combo!
Cindy of Raspberry Sunshine knocked my socks off with her tote! She used a splashy bold print on both the pocket and  main bag. The scale and layout of the print really shows off the lines of the bag, even though she used just one print.
And the natural linen accents with the bold print are sublime! So so pretty.
And finally, Lindsey of LRstitched, whipped up this ultra print-mixed tote. She really highlighted the large colorful print by offsetting it with with smaller scale 2-color prints. There are even metallic gold dots on that accent fabric. Really fun!
Lindsey, who sewed the large tote, had this to say about it,
"I truly enjoyed this bag and can't wait to use it on our next trip to the pool.  It is incredibly functional, the pockets are a great size and the bag size is perfect.  Not too large, just right.   I also enjoyed the clever sewing of the curves.  I initially anticipated that there would be curve piecing involved and was pleasantly surprised to see how the bag came together, perfect for an advanced beginner."
Thanks, Lindsey!
The Smile and Wave Tote Bag PDF pattern is available now in my Etsy Shop and on Craftsy! The pattern includes instructions and templates for both sizes with detailed diagrams. I hope you'll be inspired to make your own and hit the beach or pool this summer!