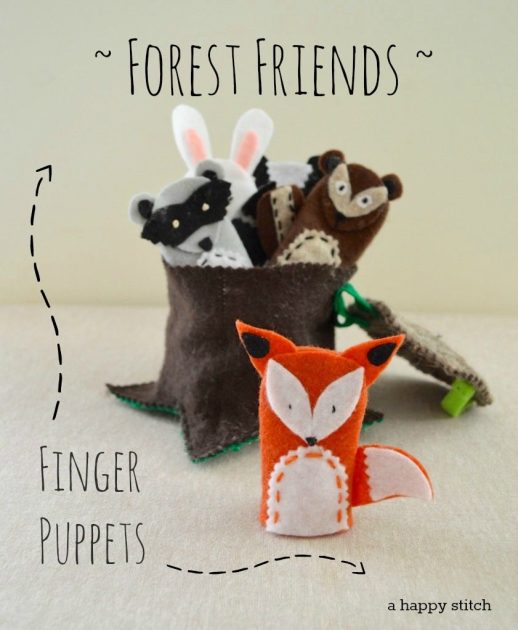 Happy Friday! Today Melissa shares the cutest little addition to the original forest friends! – Betz
Hello there!  I don't know about your corner of the world but in ours it is full-bloom spring and that has got me and my two boys outside as much as possible.  It also means I'm daydreaming about our annual trips into the woods.  Every summer we rent a rustic cabin in the middle of the woods in Pennsylvania and spend a week unplugged; making friends with frogs, foxes, toads, chipmunks birds and bunnies.  These finger puppets in their log home from Betz's book Present Perfect are the perfect accompaniment for our adventure and I had to make them.
These adorable puppets are made out of felt and are sewn, glued and embroidered together.  Since I usually sew garments, it was really fun to slow down and take the time to make small, detailed things. Very therapeutic.  And, the results are so irresistibly cute.
Now, I'm a huge, huge fan of chipmunks. I love how industrious and humble they are; they haven't invaded cities in the same way that squirrels have, they stick to their homes in the woods; and they have that funky stripe.  They are positively awesome.  Ok fine.  I think of chipmunks as my spirit animal. I relate and respect them *blush*.  So, I invented my own chipmunk finger puppet using a hodgepodge of pattern pieces.  I used the fox side faces, the skunk ears, the bunny face, and the skunk tail and added a strip to the tail.  Super simple and now I have a chippy friend!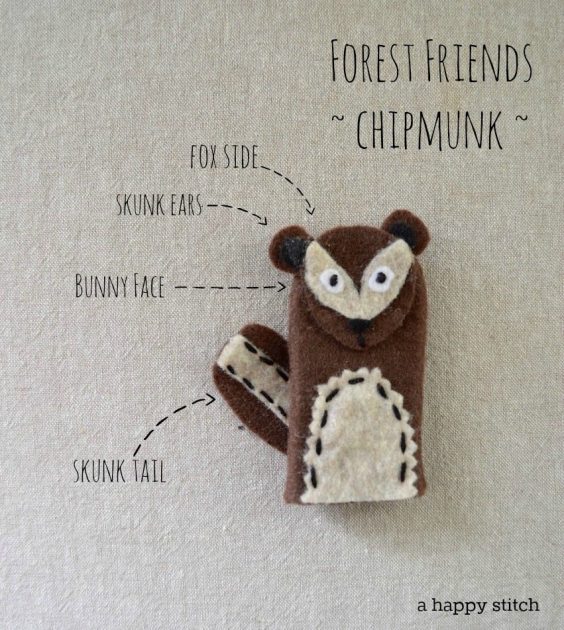 They all live together in their cozy log home! Speaking of the log home, this log is the cutest! It's got an inchworm handle, embroidery detail to form tree rings and leaves that act as a hinge so the log can open and close.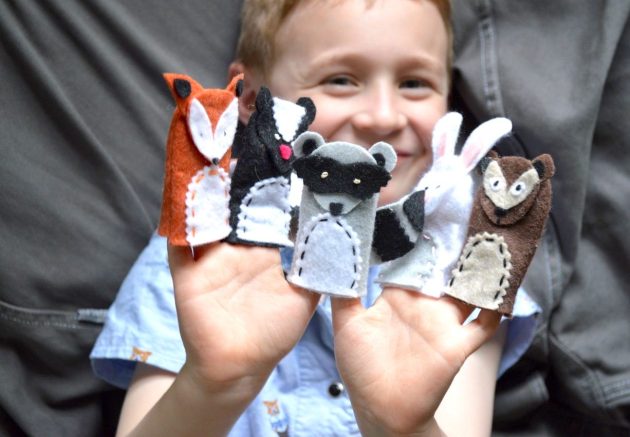 Can't wait to introduce our fun felt friends to their real woodland counterparts.
[image_options image_id="14422″ align="none" overlay="file"]

[/image_options]
Find Melissa: Blog, Facebook, Twitter, Instagram, Pinterest
This post is part of the Betz White Sewing Collective series. Content is written by compensated contributors expressing their own views and opinions.