When I set out to design my felt ornaments, I always think about you, the maker, first. Of course I strive to design something adorable, relatable and unique, AND it's got to be achievable for a wide range of makers' skills!
When a less experienced crafter purchases one of my PDF patterns or on-demand classes, I want them to know that I've got their back! My instructions go into great detail, without a lot of extra chit-chat to wade through. And if they ever have any questions, I'm just a comment or email away for assistance.
The Felt Peace Dove PDF pattern is one of my earliest designs and perfect for beginners. It's a fan favorite for good reason! It's simply made using one color of felt and uses some basic embroidery stitches decorating the wings. I beaded the hanger loop but some sparkly cord or floss would also look beautiful.
For a truly no-sew ornament with nostalgic style, the Kitchen Mixer PDF pattern is a hit with all skill levels. This design is constructed with layers so precise cutting and gluing are the main techniques used here.
All of my PDF's come with written step-by-step instructions, printable templates and detailed diagrams. Some designs may be a little more fiddly than others but I strive for clear instructions and believe that any of my patterns are suitable for confident beginners and beyond!
Perhaps you gravitate more towards photo and video instruction? I've got a great selection of online, on-demand felt ornament classes as well!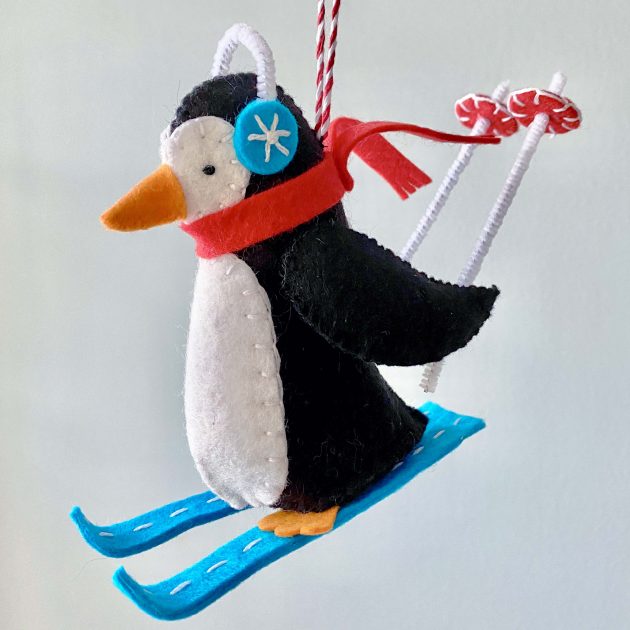 The Alpine Penguin Ornament Class is a great class to start off with for a newer crafter. Like all of my online classes, I present the content in very bite-sized lessons. Sometimes with photos and text, sometimes with short videos. And always with access to me in the class comments for questions! This class teaches basic whipstitch, blanket stitch and simple stuffing techniques. There's just a touch of embroidery and I include video tutorials with a full stitch glossary.
Similar to the Kitchen Mixer, the Birthday Wishes Ornament Class is very low-sew (just a touch of optional embroidery!). Because there's no hand sewing, it's a little more labor intensive in the cutting and gluing department. Totally achievable for confident beginners!
Those are my top 4 choices for newbies getting started with felt ornament making!
Whether your learning style leans towards written PDF instructions or photo/video class format, I've got you covered with felt ornament projects for all skill levels. Feel free to check out more than 20 PDF patterns in my shop or my 15+ classes available to you in my online school.
I've got 2 new ornament classes coming up over the next 2 months as part of my Ornament of the Month Club. If you'd like to be the first to know about new classes, patterns and other goings-on, be sure to join my email list!